Welcome back!  It's the final chapter in this legacy 'chapter'.  Our pregnant heiress, Europa, has thrown all my plans to the wind and gotten knocked up way before I had intended.  She seems to think that fudgesicles can double as prenatal vitamins…
Europa: 'Works like a charm!'
Sigh.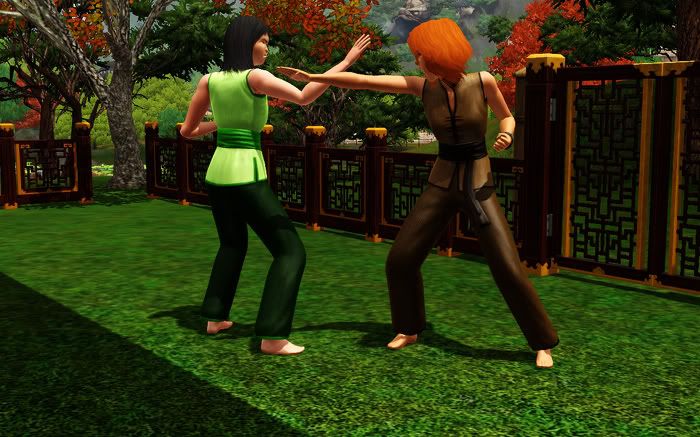 Meanwhile, Callisto heads off to China to get her kung-fu on.  She doesn't have very long to ascend the ranks to Grand Champion.  She hits the ground running and manages to make rank 2 by the end of day 2.
Most of this involves the repetitious 'invite sim over and kick their butt'.  I'm disappointed.  I almost expected something more… meaty.  Sigh.
Aludra likes to watch the matches when they happen at the vacation house.  She seems surprised here, but usually she's shouting or booing.  I'm kind of puzzled as to why she looks concerned, that's really not Aludra's way.
Aludra: 'It's an act.  I was trying to knock the old man off his game!'
I don't think it worked.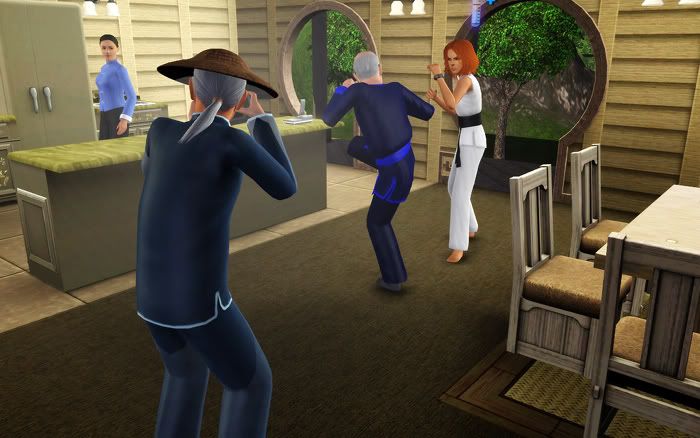 The paparazzi loves catching Callisto mid-battle.  I'm not sure how they managed to get into this random dude's house, but whatever.  This may have been boring, but at least I got to see some cool kung-fu fighting.  Too bad Callisto didn't have enough time to reach rank 5.  Things really slow down once you hit rank 4!
Back at the homestead, Europa has some interesting news for Bert the Vampire.
Europa: 'You know how twins like to do things at the same time?'
Bert: 'I think that's only identical–'
Europa: 'Whatever!  Anyway, I think you should talk to your girlfriend.'
What's this?  Callisto didn't throw up at all when she was on vacation!
Sure enough, Callisto's belly pops as soon as she hits the home lot.  Seriously?  Both of these were unintentional… sigh.  You guys are totally bloating the house right now.  This is only possible right now because I have mods!
Callisto: 'So, I'm pregnant.'
Europa thinking to herself: 'I am the smartest person ever!'
The elevator doors don't care that our heiress is pregnant, they still try to crush her.  This animation cracks me up, but it does happen a lot in this household.  I think they have more memories of getting trapped in the elevator than of each other.
Europa: 'Stupid elevator!  Can't it see that I'm pregnant?'
I don't think it cares.
Europa: 'Well, it should!'
Europa rolls up this wish and I am thrilled!  Too bad the house is way, way too full for me to ever fulfill this.  I'd love to do it, but I just can't.  I have to kick Mercury and Titania out to keep the game from glitching.  I'll wait until the babies are born, though.
For those not 'in the know', TS3′s UI doesn't handle more than eight sims like Ts2.  Instead of stacking them to the side, they just 'disappear' into space.  Each new sim pushes the top sim's portrait (the eldest sim) up and you can't see it.  Sigh.
Europa gives her European paramour a ring.  Nothing says classy like telling your boyfriend that you're knocked up over a long distance call!
Europa: 'So, I know you're in France and everything… but I really think you need to come for a visit.  There's, uh, someone you'll want to meet…'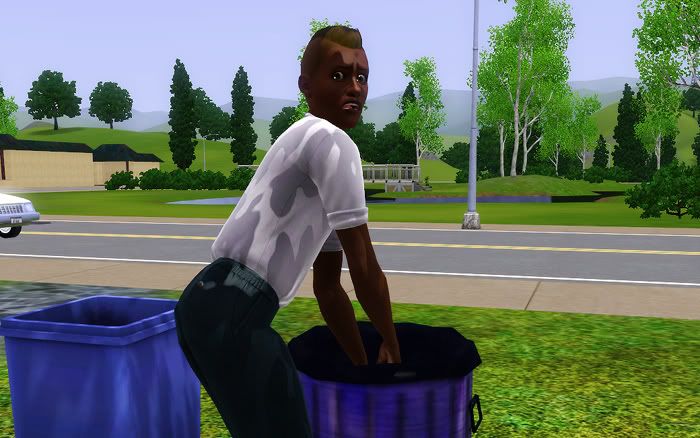 While Europa is trying to explain that business to Yves, I catch the maid digging around in the trash.  I can't say that I've ever had a maid do this before.  What is he even rooting for?  I can't think of a maid having a 'Slob' trait, so there's no reason for this!
Maid: 'What?  I'm not doing anything!'