Last time, Noelle and Europa were living it up in France.  The vacation isn't quite over yet, even though I'm sure Europa wished it was.  Noelle is unflappably French and is unfazed by her daughter leaving her stranded in the front yard without any clothes.  She doesn't even bother getting dressed before chowing down on some pizza for breakfast.
Europa: 'I'm calling dad.  You're out of control!'
Noelle: 'Sure, you do that… and I'll share with him the married men you've been 'acquainting' yourself with.'
Europa, at me: 'Can't you do something?'
Sorry.  She's got you dead to rights here.  Might as well keep your mouth shut.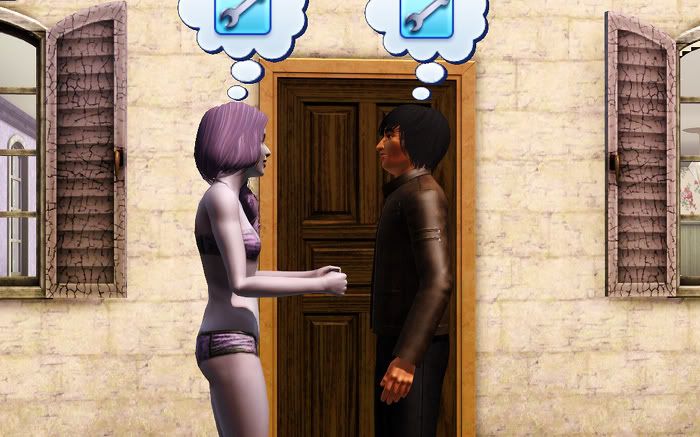 Noelle continues to throw parties and Europa meets another man whom she shares a trait with.  Their little affair is much like the last time.  Nothing comes of it, though.  At the end of the night, he leaves and they don't really talk again.
Poor Europa just can't win!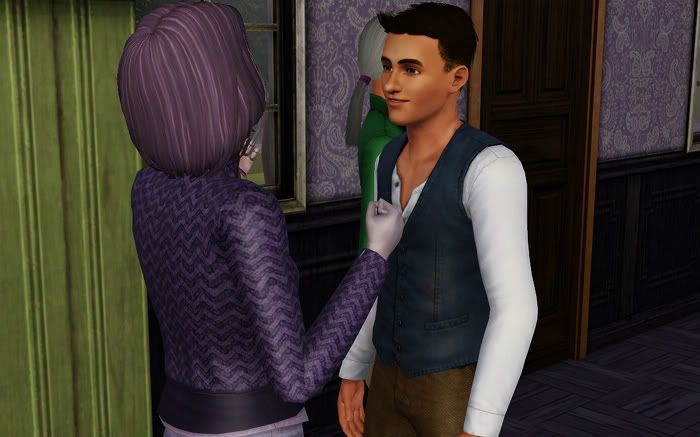 Yves Desmarais crashes another one of Noelle's parties and Europa is quick to greet him.  They share the "Brave" trait and actually seem to find one another remotely attractive without the aid of nectar.  This is a good start!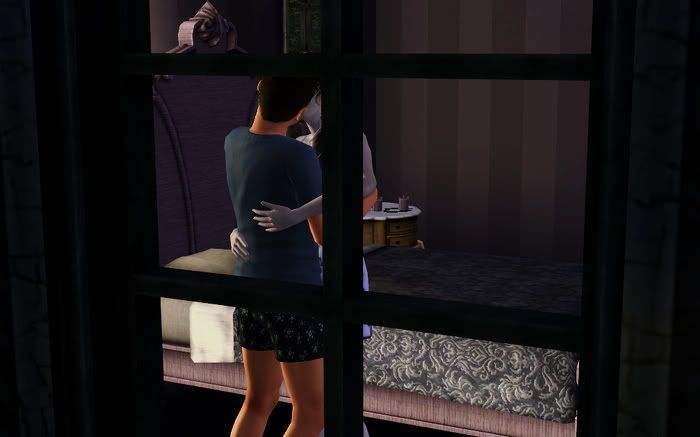 Unfortunately, being the inappropriate sim that Europa is, she instantly takes things too fast and has another party woohoo session.  Surprisingly, though, Yves doesn't just stride off once the party ends, he stays.
He even stays through breakfast and isn't the least bit thrown off by Europa opting to have just a glass of nectar for her morning meal.  Instead, he compliments the house and just makes pleasant conversation.
I'm pretty impressed.  For a one night stand, this is turning out rather well… Europa actually seems to like him, too… even if she seems rather indifferent on the surface.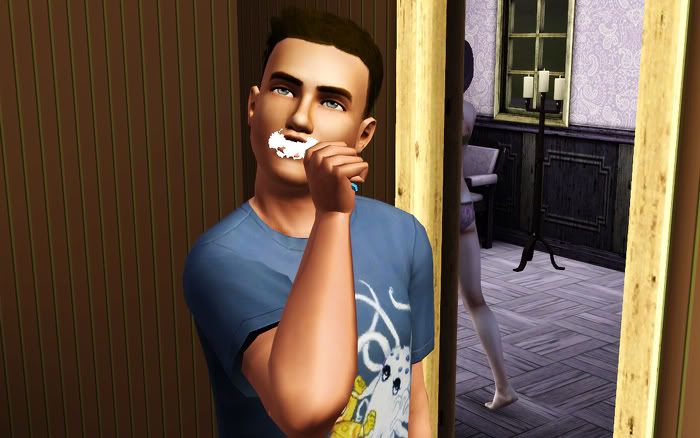 By the end of the vacation, Yves has practically moved in.  He refuses to leave.  It's pretty hilarious.  Europa doesn't seem to mind, because now she finally has someone to hang out with that isn't partying or streaking in the hot tub all the time.  She does kind of wish Noelle would show a little more class around her boyfriend, though.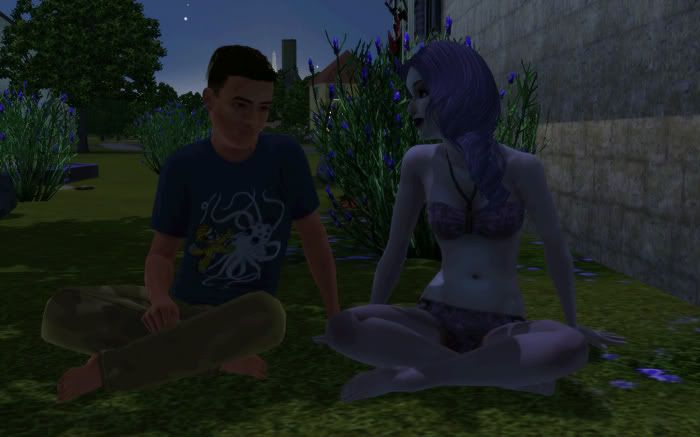 Yep, that's right… Yves is Europa's boyfriend.  They got on so well, I decided they should at least make it official before she leaves.  I'm not sure if he'll move into the legacy house or not, but at least now Europa has someone in her life.  Poor girl, she's been alone for awhile…
Hopefully this takes her mind off that sparkly vampire, Bert.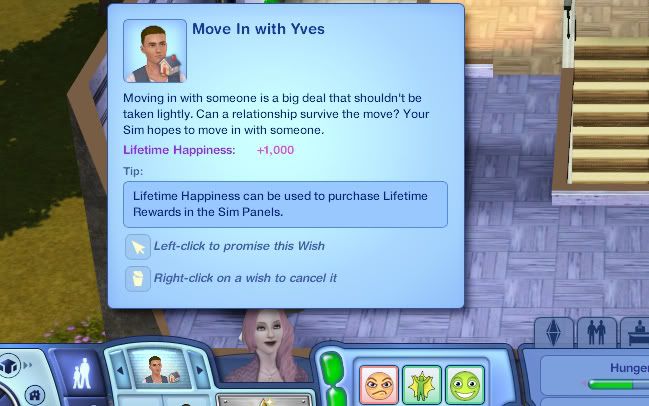 Before they leave, Europa spins up this wish.  Sorry, the house is kind of near capacity at the moment.  I don't really want to move in anymore people until Titania and Mercury are gone!
I'll keep it in mind that you wished for that, though, Europa.
Noelle and Europa return home and I breathe a sigh of relief.  I'm not sure I could have kept up with Noelle's crazy partying any longer.  Now she's back to her boring life of smooching up her husband and making nectar.
Europa picks up a new hobby and tries mixing drinks… she's not the best at it.