Whew, it's been awhile.  Unfortunately, I've had a bevy of issues to deal with since I got back.  My eyes are getting worse (and then better, and then worse), so it's hard for me to read/write/do anything on the computer.  Secondly, I'm about to find a new host, because my current one is driving me insane with all the issues/etc.  Thirdly, I leave this Thursday again for a week and I'm not prepared.  At all.
Anyway, on with the sims.  The text will be limited.  I can't see for crap and so I apologize beforehand for spelling errors and very bad pictures.
As you can see above, Noelle is pregnant again.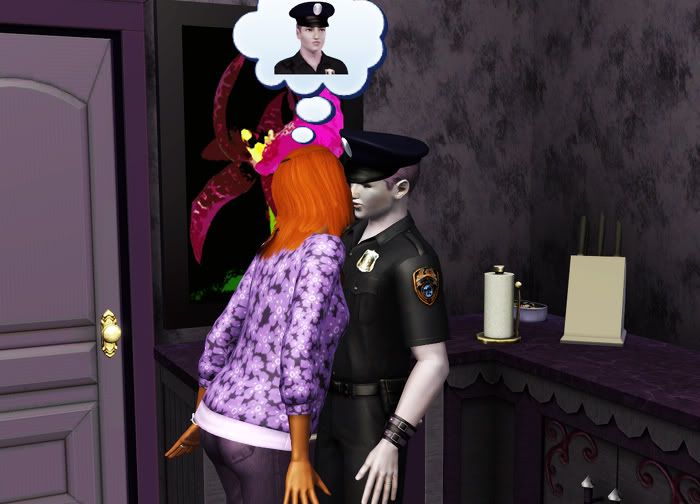 I'm pretty sure this has a lot to do with Altair running around in his blues all the time.  Time to get him a promotion so Noelle stops jumping him all the time.
I will say, I've had a hell of a time getting him promoted because one of my Nrass mods clutters the dialogue so badly it would hide the 'Question' option.  Thankfully, I found a way to hide the dialogue options.  Yay!
Oberon, unfortunately, decides its time to move on.  He's been a fun guy to have around, but all he does is get stuck with babies now.  It's time for him to go be cool somewhere else.
Have a good one, Oberon!  Keep rocking the muscle shirt.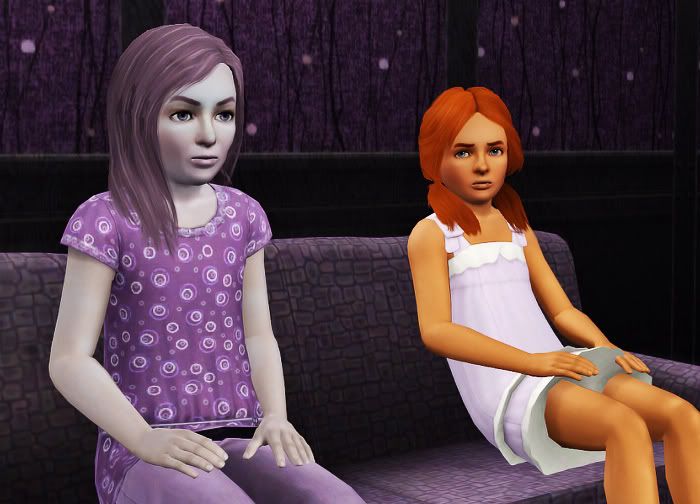 The twins begin their rapid decline into adolescent apathy by becoming children.  I hate that you can never tell what Sims 3 children are going to look like.  You always, always have to wait until they become teens.  Sigh.  Curse you, pudding faces!
Europa Astrum
Brave, Clumsy, Inappropriate

Callisto Astrum
Athletic, Grumpy, Angler

The costume trunk is very popular with this generation of kids.  They are constantly playing pretend.  They decided to play pretend as tyrannosaurus, but I don't think gramps was too keen on that idea.  He's obsessed with playing Classical music at high volumes.  Sigh.
Unfortunately, not even the classic musical blaring could hide this pregnant momma's roars… or screams, whatever you prefer.  She wasn't playing pretend, either.  The poor girls, their sex ed just happened a few years too early in their own living room.
Noelle gives birth to… a gremlin!  Holy crap.  Look at it.  It totally looks like a gremlin.  I name her Titania.
Titania Astrum
Insane, Good

While Noelle was giving birth, this new innovation in law enforcement comfort rolled up.  It's the Stretch Police Cruiser!  It offers only the greatest comfort for the sims best and brightest.
Lyra passes on before Gaston.  I only have this crappy picture because it caught me completely by surprise.  I totally thought Gaston would go first!  The dude was waaaaay older than Lyra when they married.  D'oh/  Bye bye, Lyra… I quite enjoyed having you around.
To mend the wounds, the Astrums adopt a kitten.  I got pets when it was released in the hopes that now we will finally, finally get weather.
A girl can dream, can't she?
Anyway, the kitten's name is Luna.