Aww, what's wrong, Lyra?  You look a little puzzled.
Lyra: 'What did you do to my son's hair?'
It's a mohawk!  Isn't it cute?
Lyra: '…he's a toddler.'
Which is what makes it so cute!  I didn't even know I had it, I found it while trying to give him a decent hair style.  I'm just going to blame her dislike of it on her very pregnant belly you can only barely see in this picture.
I got a weird notification, so I just had to check it out.  It seems like Crazy Vega had a baby!  I'm not entirely sure I'd trust her with a baby, but hey, I'm not in control of her.  The dude she had the baby with runs around in a kilt, so I'd say they're a match made in Heaven.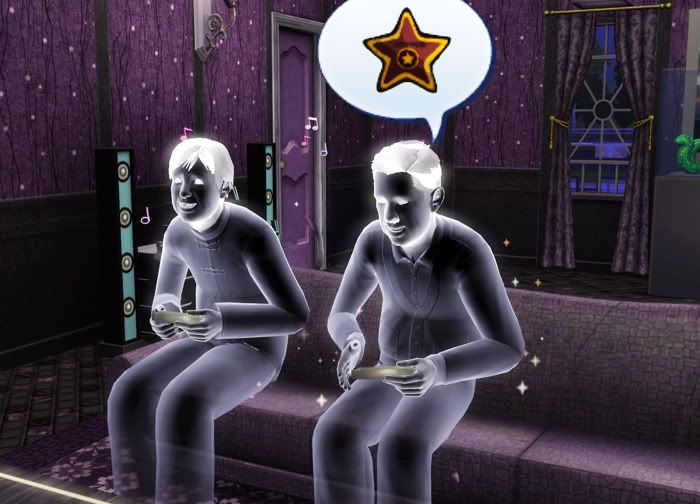 Manchu and Bao like to haunt together now.  They come out around the same time, wander into the living room, and play video games.  This is a lot more agreeable than solo haunting, which involves trying to nap on someone's bed and waking them up!
Bao: 'We had a pretty good life, Manchu.'
Manchu: 'Yes, yes we did…'

Lyra comes home with another baby boy!  I feel bad, Gaston and Lyra really wanted a girl, but I try not to mess with a baby's gender.  I like the randomness.  I also like that I've randomly gotten a boy and girl every other generation so far.  I like to mix it up.
Oberon Astrum
Absent-Minded, Evil

Okay, this is super cute.  Pollux had a wish to read Altair to sleep.  I thought you could only do this with children!  Nope.  He took Altair in and read him to sleep.  So cute.
Pollux: 'He fell asleep right after I started!'
He was really tired.  I mostly only did it to fulfill my curiosity and your wish.
Pollux: 'Sigh.'
Gaston has confused himself with a Family-Oriented sim!  As much as I'd love for them to spit out more cute babies, this is a legacy and I'm trying to keep things under control.  The house is also full.  Sorry, buddy, no dice.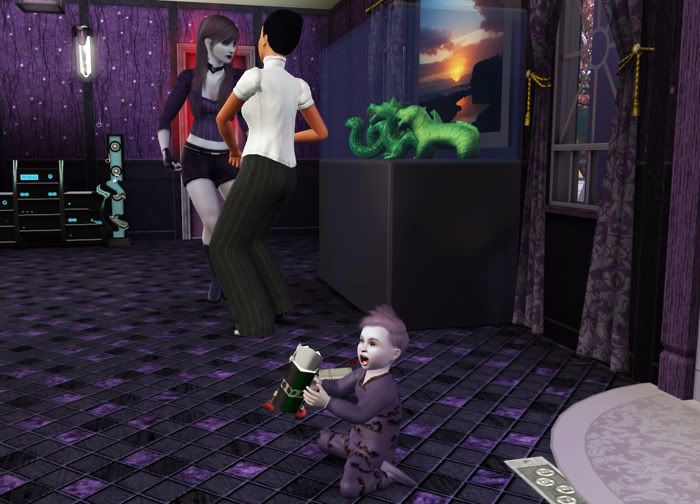 Besides, do you really want more kids?  I mean, this is Aludra and Theia's idea of babysitting.  He's about to chow down on that dangerous electronic toy and they're both too busy cutting a rug to notice.
We'll be lucky if this heir makes it to his teen birthday, at this rate…
Oh, speaking of dancing… how in the world do you know how to Club Dance, Gaston?
Gaston: 'I'm French!'
That's not an answer.  If you were German, maybe I'd accept it… but no.  Have you been sneaking out to clubs or something?  That's just bizarre.
If you're wondering why I'm not concerned about Aludra dancing with Gaston, it's because of this.  These two flirt constantly without my hand.  I'm serious, any time I turn around and one of them is idle, they're flirting or kissing.  After this little serenade, they ran off to try and break the elevator… much to Theia's horror, who was trying to practice her writing!
I didn't get a picture because I wasn't expecting it, ha.
Oberon becomes a pretty cute toddler.  He has everything but the eyes, which he inherited from Gaston.  I'm still amazed by the skintones!  That's the hardest thing for this game, apparently.  Oh, I hate the randomization of eyes, but I usually get pretty lucky on that… but the skintone?  Forget about it.
Also, you can see the differences between Oberon and Altair's skintones here.  I looked back and noticed that there's always been a random deviation in the actual coloration of heir and heiress' skintones.  I think it's to do with the games attempt to 'blend'.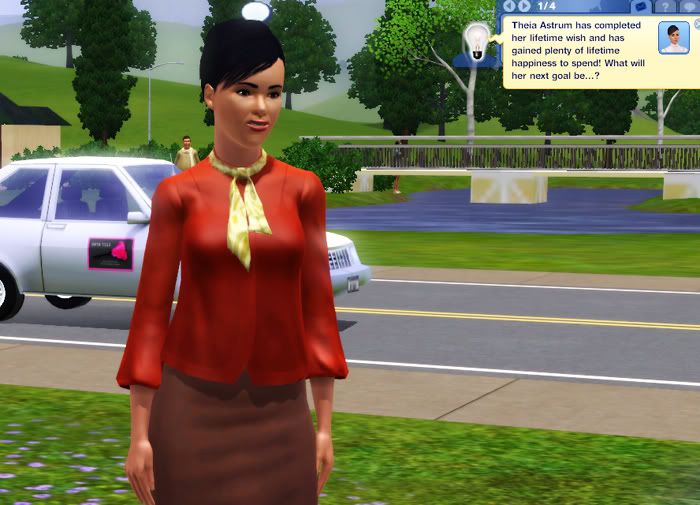 Theia completes her lifetime wish!  Hooray for Theia!  Too bad that outfit is horrible.
Theia: 'Try being on-air when you're wearing it!'
Well, as much as I've enjoyed you being here… it's time to send you off to live your own life.  Have fun!
Theia: '…where to begin…'