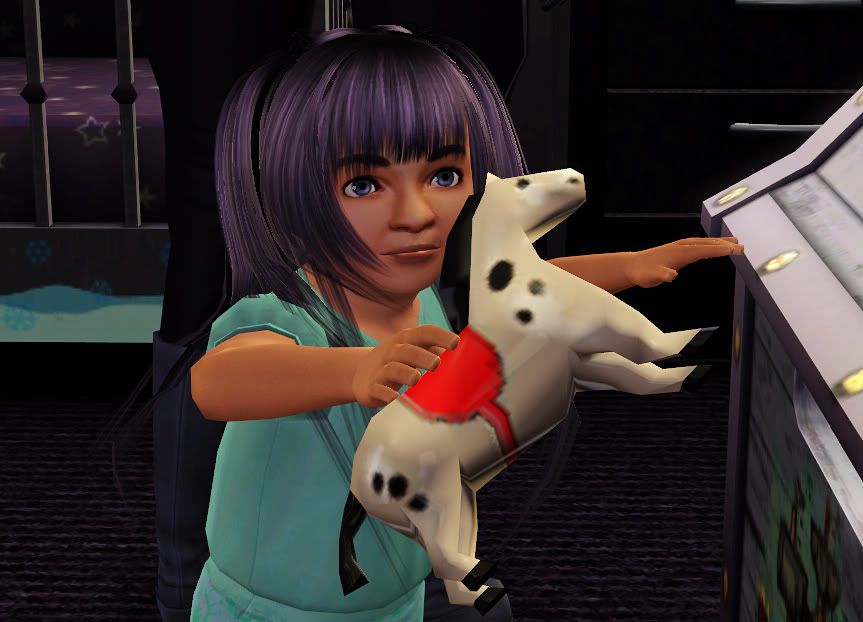 You'll have to bear with me here, folks.  It's been a long while since I've seen anything out of my legacy family!  I'm also a little under the weather while I work on this… so, yeah.
But it's an update and that's good, right?  Right.
Vega Astrum is a toddler.  She has purple hair, but lacks the purple skin.  Sadface.
Aludra, of course, takes an immediate liking to Lyra.  It's like she knows… she can feel the evil within.  Don't get your hopes too high, lady.  That girl has some Friendly in her, too.  It should make for some 'interesting' evil shennanigans.
Aludra: 'I'll make sure to train the evil out of her…'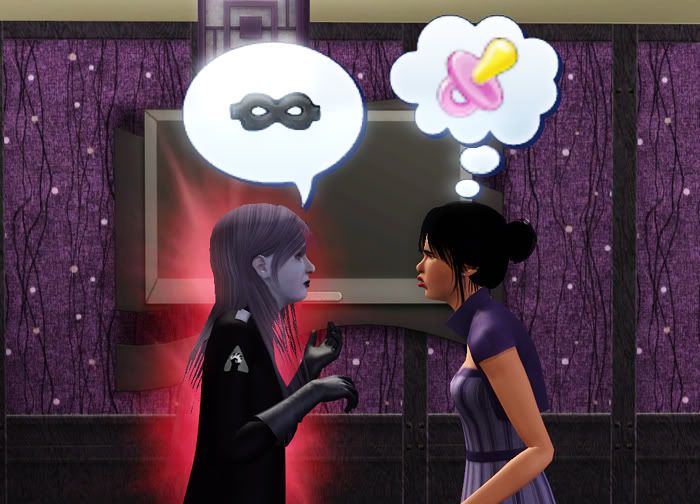 Aludra: 'Your daughter is set to become one of my most prized evil minions.'
Wu: 'Have you lost your mind?  You're not taking my baby!'
Aludra: 'Take?  Don't be silly.  My minions are always willing.'
Better keep an eye on Lyra, Wu.  That Aludra just doesn't know when to quit…
Theia, meanwhile, ignores her entire family and instead reads hologram books from the future.  Hey, wait a minute, where did that even come from?
Theia: 'Grandma brought it back with her.'
Ah… okay, I guess.  Can you even read it?
Theia: 'Of course.  While everyone else in this family is being insane, I'm busy being smart.'
Well, good for you.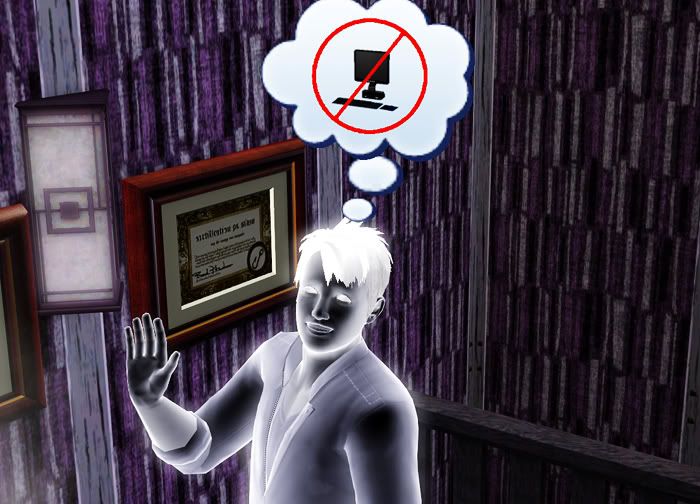 Awww, poor Sirius… it's time to pack up and head out, buddy.  I originally booted him because I was scared Lyra wouldn't fit the bill.  I also wanted him to have a chance to live instead of just hanging around and scaring everyone in the house with his ghostly presence.
Also, I had about enough of that damn ghost track.  Gah.
Sirius: 'No worries, I broke the PC as my revenge!'
Gee, thanks.

Awww, little Lyra is so cute!  How can she possibly be evil?  Her lip is a little wonky, though.  I think that evens itself out in childhood… thank goodness.  It's like a lottery.  You never know what you're getting with these sims!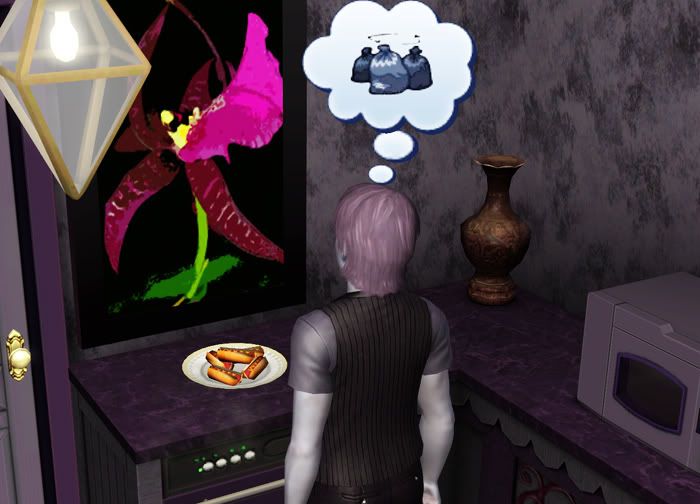 Pollux: 'Ugh, Deneb made these.  Who let him near the microwave?'
Be nice, Pollux… he is technically your brother.
Pollux: 'Half-brother and he's also insane.  I'll be putting these in the trash!'
That's not very nice.
Pollux: 'He hates kids.  He could have poisoned them!  He's mother's minion for crying out loud.'
Hmm… good point.

Aludra wastes no time getting in with Lyra.  She takes it upon herself to teach the budding heiress how to walk.
Aludra: 'That's right, one foot forward.  Imagine you're crushing a wimpy peon beneath your mighty boot as you walk.  There you go!'
Oh my…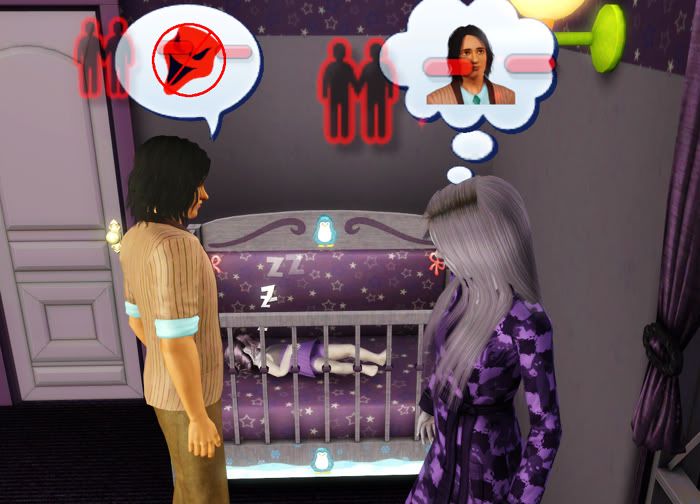 Unfortunately, it seems that Aludra's sudden closeness with Lyra has gotten under Deneb's skin.  Not only does he dislike children, he is also used to being Aludra's number one minion!
Deneb: 'How can you put all your faith in a child??'
Aludra: 'Easily!  I trusted you, didn't I?'
Deneb: 'You're so mean and evil!'
Aludra: 'Silence!  Be a good boy and leave me to my minion rearing.'

Aludra takes a break from her minion rearing long enough to play with the energetic Vega, who is now a child.  Unfortunately for Aludra, it's been a long time of sitting in her Evil Throne and less time doing dastardly deeds of action.
Vega: 'You're it, grandma!'
Aludra, panting: 'I've told you… don't call me that… and just a second… need to catch my breath.'
Vega: 'Aw, c'mon, grandma!  You're it!'
Aludra: 'And you say this child isn't evil?  Pah!'
Vega gives up on grandma and instead harasses her older sister into playing with her… for a short while.
Theia: 'I'd really rather be reading…'
Vega: 'C'mon!  The aliens are going to get us!'
Theia: 'Is she all there up top?'
No, no she isn't.  Looks like the Insanity disease hit another sim…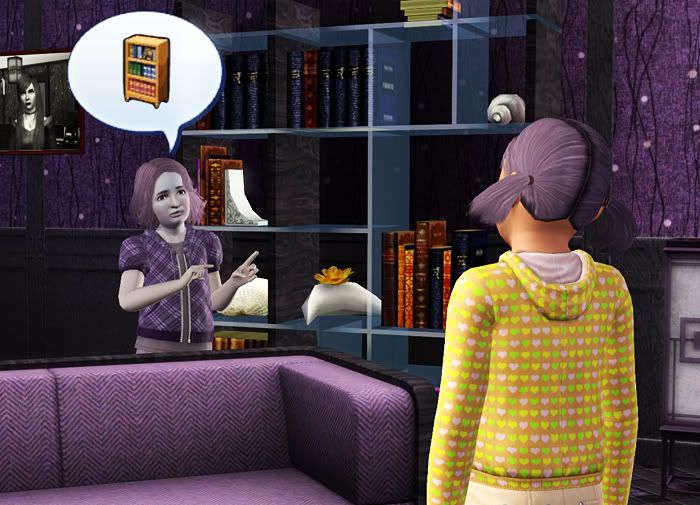 Lyra quickly becomes a child and decides to take it upon herself to teach her slightly Insane sister the facts of life.
Lyra: 'You see, Vega, these are books.  You read them.  You don't wear them as hats.'
Vega: 'But they make such good hats!'
Good luck with that one, Lyra.  At least her Friendly is coming out instead of her Evil, despite Aludra's attempts.