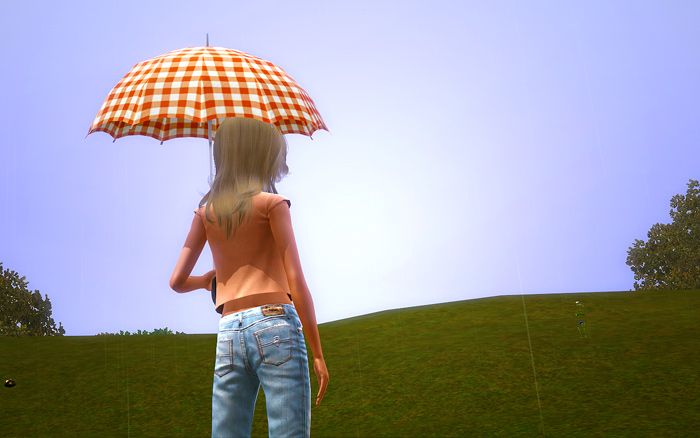 Sacha had been waiting for her wedding day for what seemed like an eternity.  As a little girl, she'd always dreamed of the day she'd meet the man of her dreams and walk down the aisle.  Despite all her success as a model and an actress, it never quite filled the void that being alone left her with.  Fame was nice, but it would eventually fade.  Sacha was more interested in a family of her own.
Even a little rain couldn't put a damper on Sacha's mood.  It was still early, the rain could stop at any time.  Sacha wasn't the type to lose hope easily.
The rain did stop, just before they arrived at the beach.  Despite her notoriety, Sacha didn't want an overblown ceremony.  She preferred a more intimate gathering at the beach just a short distance from their house.
Luis' adoptive parents, Cherie and Khalid, were the first to arrive.  They helped with little Aidan while the couple finished setting up.
It turned into a very hot day, but Sacha and Luis were undaunted.  They exchanged their vows before the eyes of their friends and family, trying not to melt in their heavy formal clothing.
It was hard to notice the heat when you were completely engrossed in the person standing in front of you.  It was a very touching ceremony.
The only 'fancy' touch that Sacha had requested was a horse, which Luis' best friend Philip, had provided.  It was used to usher Sacha to her place at the altar, though plans had to be changed to compensate for her dress.  All-in-all, everything turned out beautifully.
"Congrats, man," Philip said as Luis approached him, loosening his collar amidst the sweltering heat. "We're both married men now!"
"And fathers," Luis added with a chuckle. "We seem to do everything together, don't we?"
Philip clapped him affectionately on the shoulder, "as it should be, dude. Bros forever and all that. Come on. Let's get a drink. It's freaking hot out here…"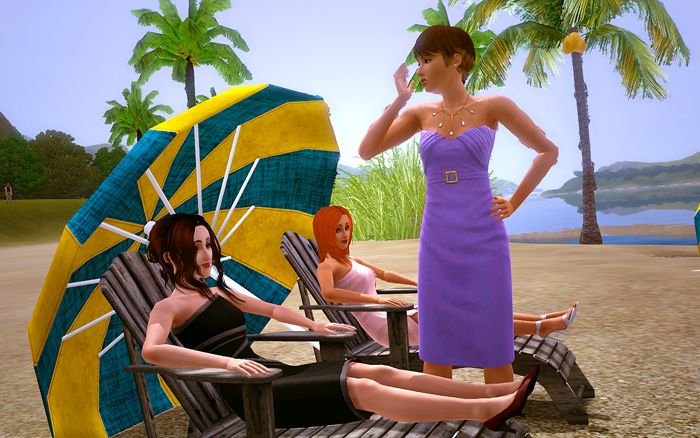 Most of the women took advantage of the heat to work on their tans. The beach was a beautiful location for the wedding, despite the weather. The calm and soothing sound of the waves broken now and again by the errant calls of seagulls. It was like stepping out of Aperture Valley entirely and going on vacation.
Some guests even brought their swimsuits and jumped in the ocean to cool off.
Of course, what was a wedding without some goofy dancing? As the sun moved across the sky and a gentle breeze filtered over them, the guests–now considerably inebriated and maybe a twinge dehydrated–broke into fits of dance.
It wasn't the type of dancing you wanted pictures taken of, but it was the sort that would be shown years later to children and grandchildren.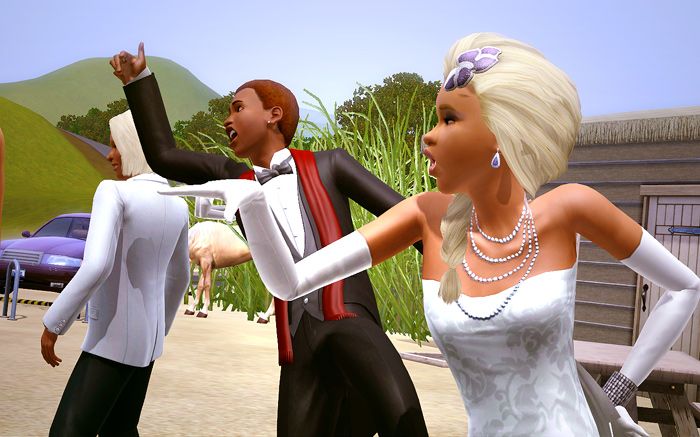 Remarks would be made about how no one remembered it being that silly looking when they did it. Maybe even a chuckle here and there as the memory of just how much you had to drink that night slowly crept up on you.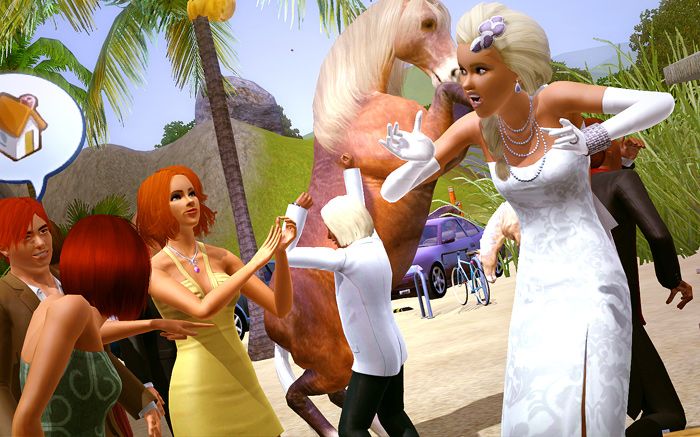 Most of the discussion would likely revolve around the horse and why it had chosen to partake in that particular brand of silly dancing.
At the end of the day, scorching heat and silly dancing aside, Luis and Sacha were happy. Aidan was too young to really know what was going on and it was likely he wouldn't remember any of it, but he seemed to enjoy himself just fine.
Unfortunately, it would take Luis and Sacha ages to get the sand out of all his clothing and shoes…
———————-
What's a wedding without goofy dancing? Sometimes, I regret not having a "proper" reception (but never regret not having a "proper" wedding), but then again… who wants the hassle when I can do it in The Sims?? 
Anyway, Luis and Sacha are finally married. I actually had a LOT of fun making Sacha's wedding outfit, though I forgot to recolor Luis' little sash thing to match her. D'oh.
I hate how TS3 smustle isn't timed together and how sims don't try to get in a proper line for it. Sigh!