Another summer, another birth! Little Sandra Martel entered the world quickly and early. It was such a shock that Luis and Sacha barely had a chance to prepare.
Sacha is relieved when the baby is deemed healthy and she's able to take little Sandra home.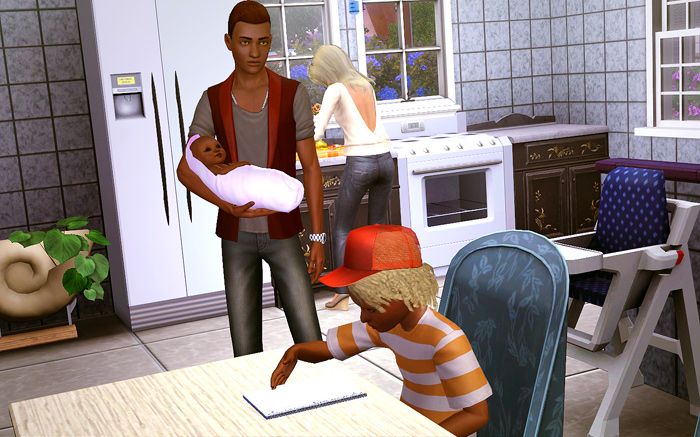 Aidan still not sure how he feels about having a little sister. He was really hoping for a little brother! Luis tried not to laugh when Aidan asked him if there was any way they could exchange her for a boy. Sacha wasn't nearly as amused!
Still, he seems to be coming around to the idea. Especially when Luis mentioned that he'd be in charge of keeping his little sister safe. Sacha wasn't exactly thrilled at the thought of Aidan beating up boys on the schoolyard playground for looking at his sister wrong.
Sandra probably won't remember their old house, as just after her birth, the Martel family relocated to their home near the beach.
——————
Sandra popped out without my knowing during all the mod confusion, sigh! The game had named her, but I was having NONE of that and quickly renamed her. My husband supplied the name. At least he didn't try to slip a Game of Thrones reference in there. Readers of my old Boreal Springs prosperity blog will remember that my husband slipped in several references to various things when naming my sims.
Annnd that ends Round 11!