Dominic Cosaro (Adult)

Dominic Cosaro wasn't really the type to get hung up over something silly like Sacha running off with Luis.  In fact, if everything worked out, he'd be happy for her.  Camilla's death, however, was an entirely different matter.  He didn't talk about it, he declined to comment when the media asked, and he wouldn't even talk about it with his close friends.
Instead, he welcomed the distraction of finally being able to woo ladies publicly again.
Dominic's effort to dismiss any sorrow he felt over Camilla's untimely passing was impressive.  With his status as a sports superstar, it wasn't difficult to pick up chicks.  One girl in particular, Tricia French, was a fellow athlete with her own status and money.  They had an easy relationship, one that worked out for the both of them.
Only Lola, Dominic's dog, was concerned about how the maid he slept with might feel about walking in on him making out with someone else.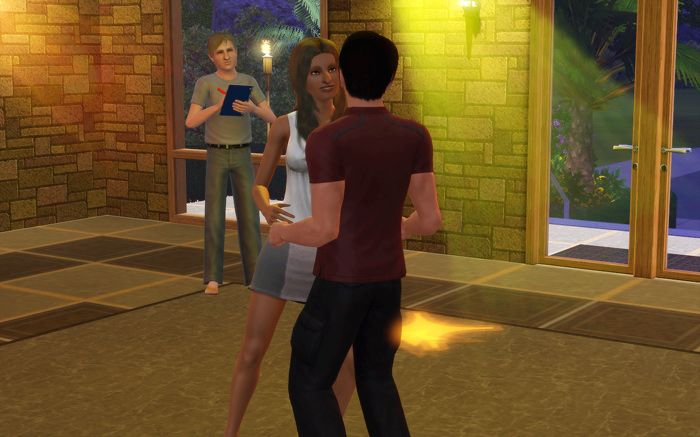 The media had a field day with Dominic's exploits.  He didn't really make much of an effort to hide the fact that he was actively dating around.  Any girl that thought she was the only one was a fool.  The tabloids printed his dates almost weekly.  You'd have to be ignorant to miss the signs.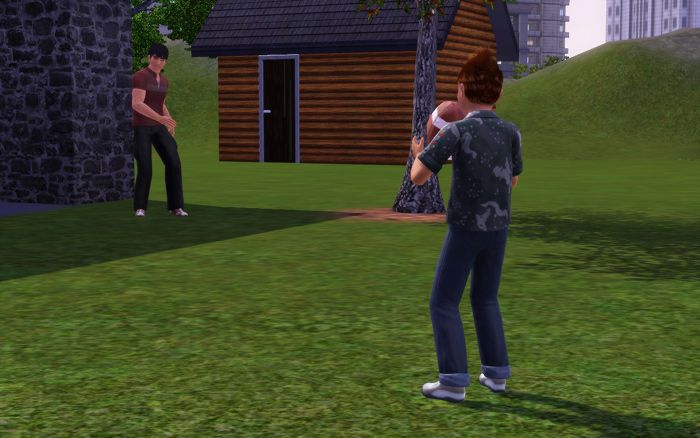 Even with all his partying, Dominic didn't shirk his responsibilities.  He still spent time with his children.  Julian was grounded due to pulling a huge prank at school, so Dominic had to visit him at home.  He managed to sneak him outside for a quick game of football, though.
Dominic's eldest, Emma, was now a teenager.  He could hardly believe it.  It seemed like just yesterday she was a tiny baby.  Seeing her growing up just reinforced thoughts of death, which he wanted to avoid.  Camilla's death and now this, it was just too much to think about for someone like Dominic.
Emma wasn't happy at home.  It was typical teenage hormones.  She wanted to come and live with Dominic, but Dominic knew that would upset Asha.  He wasn't sure his kind of lifestyle was really suited towards having a teen girl around, anyway.
"But dad, she's driving me crazy!"  Emma whined, jutting out her lower lip into a pout.  "She never lets me do anything."
"Parents aren't supposed to, that's what they do.  You'll be fine, Emma.  Just don't give her such a hard time."
"Hmph.  You'd let Julian move in with you if he asked!"
"I would not," Dominic said quickly.  "You wouldn't like living with me, Emma.  Just trust me on that.  Be nice to your mother, okay?  I'll see you on Thursday at the game."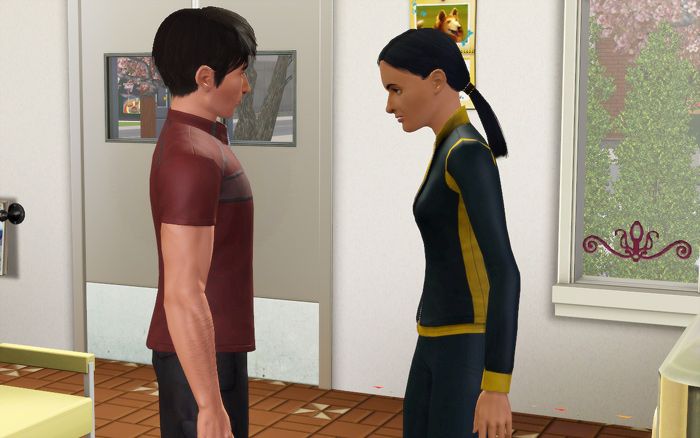 Dominic and Tricia continued their casual relationship.  She was his most constant companion.  Their schedules were very similar and they had quite a bit in common, including their thoughts of just being "casual."  Dominic had finally find his female equivalent, it seemed.
They were at the laundromat getting ready to part ways when Dominic's phone rang.  It was Asha.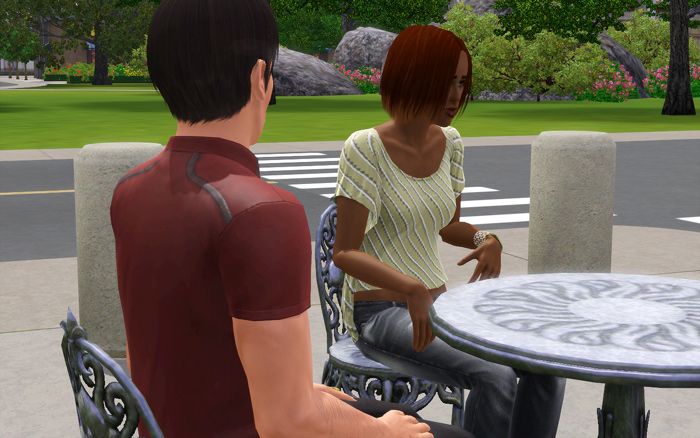 He sat outside of the laundromat at the cafe, waiting.  When she arrived, she looked frazzled.  Dominic prepared himself for another one of Emma's antics only for Asha to sit down and say:
"This is really, really weird, I know… but I have to talk to someone and… I can't really trust anyone else with this…"
"Asha…"
"I'm sorry, Dominic.  I probably shouldn't drag you into this…"
"What is it?  You're acting weird, even for you."
Asha took a deep breath and looked him straight in the eye:
"What do you know about vampires, Dominic?"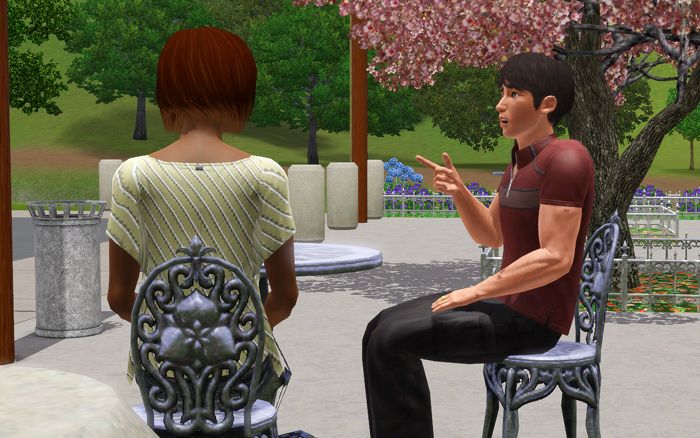 It took her almost an hour to explain it all to him in a way that he could understand.  Dominic wasn't stupid, but the concept of vampires was a bit beyond him.  All his thoughts of death and mortality moved to the forefront of his mind.
"I just… I don't know if I could.  It just seems…wrong somehow, but yet…"
"I'd do it."
"W-what?"  She looked at him like he was insane.  "Are you serious?  Do you even know what it means?"
"Sure.  I mean, I guess… really, Asha.  Who would turn down something like that–who doesn't want to live forever?"
"Fangs, Dominic," Asha said, pointing to her perfect teeth.  "Can you see it, on me?  Drinking other people's blood.  It's creepy!"
He shrugged.  "Maybe, but it's also kind of… perfect."
"I think this whole death thing with Camilla has made you nuts."  She sighed, realizing how harsh that sounded.  "Look, I'm sorry.  I just, this really freaks me out…"
"Hey, you're the one who married a vampire crime boss.  I don't think anything should freak you out anymore."
Her shoulders slumped in defeat.  "I know.  I feel like an idiot."
"I didn't mean it that way, Asha.  I just mean that you're a lot stronger than you think.  I'm not telling you to do it, I'm just saying that I totally would.  I know it sounds stupid right now, but I think I could make it work.  Plus, I'd always be there to keep an eye on Em and Julian."
"Could you imagine, though?  Those poor kids.  They'd be introducing their three parents, the sports star father, the vampire crime boss step-father, and their vampire mother.  We're already dysfunctional, Dominic.  I don't think I can handle making it worse."
———————-
Dominic did not want to deal with what happened with Camilla at all.  He just wanted to date, date, DATE!  I don't blame him.  He really liked Camilla and it's always kind of a wake-up call when someone close to you dies young.
I'd never seen this wish before.  I'm always excited when I discover new ones!  I really wish TS3 sims spun up more romantic wants…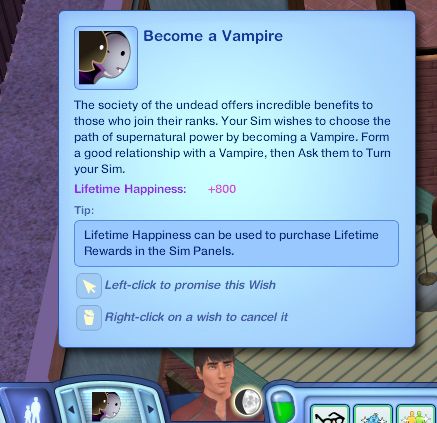 Dominic spun this one up after visiting the kids at Clark's house.  He would totally jump at the chance to be a vampire, thus why I had him respond as such to Asha.  I figured Asha would only really trust Dominic to know the truth about Clark and co.  I can't see her making a decision this big without talking to someone!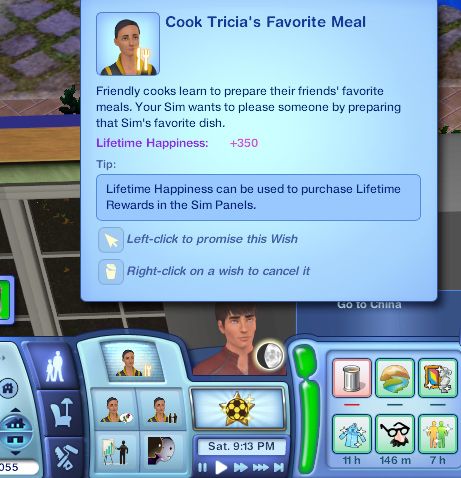 Dominic and Tricia are quite enamored with one another.  All Dominic does is spin up wishes for her!  He hasn't been like this since Asha.  It's cute.  They are both happy just being casual for the time being.
Dominic also has a thing for the Supernatural.  Since installing the EP (this was my first house with it), he rolls up all kinds of supernatural wishes, lol!
Title is Taio Cruz – 'Break Your Heart.'